Discover The Luxury Of The Lincoln Navigator's Interior Design
As much as people might admire a vehicle from the outside, it's the cabin where they will be spending hours every week, which makes the Lincoln Navigator interior especially important. This is an area in which this luxury SUV truly shines. The base level trim is loaded with many desirable standard features that will keep you inside your car a little bit longer after reaching your destination. To get a sneak peek, read on.
Lincoln Navigator Interior Dimensions
The dimensions of this vehicle will vary based on the body style. The Standard option comes with 172 cubic feet of passenger volume and 20.9 cubic feet of cargo space behind the third row when the third-row seats are fully upright. If you have a lot to bring with you, you can fold the second and third rows of seats down for a maximum storage capacity of 103.3 cubic feet. Either of the Navigator L trims offers even more cargo room.
As the driver, you will enjoy 43.9 inches of front-seat legroom. The second row gets 41.1 inches when the seats are pulled up as much as possible and 42.3 inches if they are pushed back. If the second row is fully pushed forward, the third row offers 40.9 inches of legroom, making this SUV one of the best choices if you plan to load your entire vehicle with adults.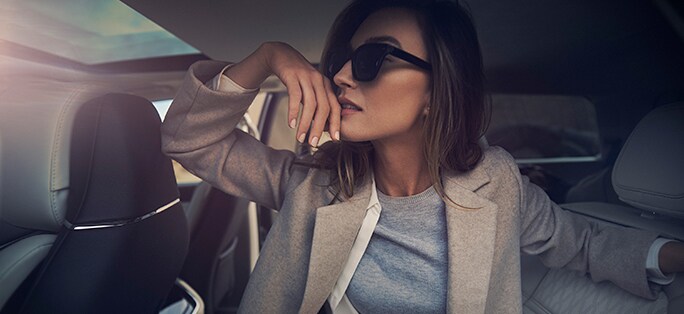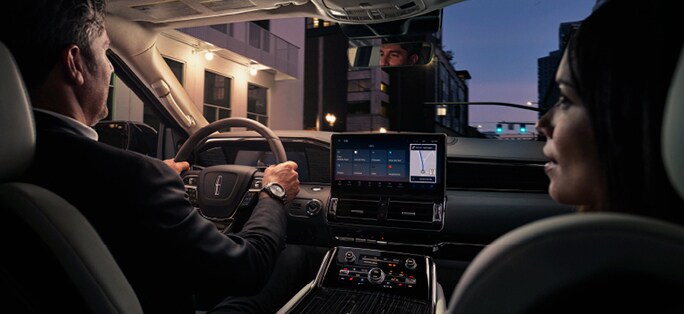 Lincoln Navigator Interior Colors
Lincoln Navigator interior seats can be Lincoln Soft Touch Seats or Perfect Position front seats with leather seating surfaces, depending on which trim level you choose. Your desired trim level also makes a difference in your color options. For example, a Lincoln Navigator Standard comes with either Sandstone or Black Onyx interiors, depending on if you want a light or dark color palette. If you opt for a Lincoln Navigator Reserve or Reserve L, you get the additional option of a Black Onyx/Roast combo, which gives you coffee brown seats.
If you upgrade to the Lincoln Black Label trims, you get your pick of the dark brown Invitation, cream-colored Chalet, bluish-gray-toned Yacht Club, or the lighter, cooler brown known as Central Park.
Lincoln Navigator Features
This SUV comes in five trims (the Standard, Reserve, Reserve L, Lincoln Black Label, and Lincoln Black Label L). The "L" versions are mostly identical to their similarly named counterparts, except that these vehicles are longer. All of the trim levels come loaded up with the kind of perks that, once you get used to them, are hard to live without. With too much offered to explain in this article, here's just a taste of what you can find on a mid-level Reserve trim:
Remote start system
Heated and ventilated front and second-row seats
Front passenger seat with memory
13.2-Inch LCD touch screen
Heated steering wheel
Optional 2nd-row PowerFold Captain's Chairs with massage function and a 5.8" touch screen on console
Revel® Audio System with HD Radio™ Technology and 14 speakers or optional Revel® Ultima 3-D audio system
Embedded modem with 4G LTE Wi-Fi hotspot capability
Hands-free liftgate
ActiveGlide
Pre-collision assist with automatic emergency braking, including pedestrian detection, Intersection Assist 2.0, forward collision warning, and dynamic brake support
Optional 1st- and 2nd-row illuminated belt buckles
This is only the tip of the iceberg, and additional packages can up your driving experience even more. For example, you can get the Heavy-Duty Trailer Tow package, Lincoln Play with Amazon® Fire TV package, or Monochromatic Package. For a full list of all that this vehicle can offer you at every trim level, contact our dealership.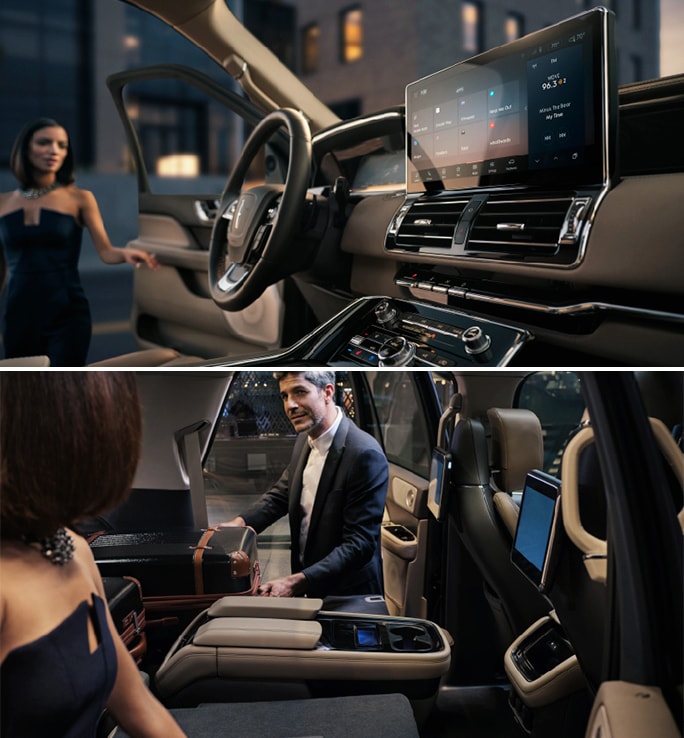 Create Your Own 2022 Lincoln Navigator Interior
If everything that we've said so far is making you even more eager to experience a luxury Lincoln Navigator interior for yourself, visit our Lincoln dealership. We can help you take a test drive of one of these SUVs that are on our lot or work side-by-side with you to custom order your Lincoln Navigator with the dimensions, upholstery options, and special features that you've been dreaming about.
We can also explain what Lincoln Navigator interior accessories are available. Some accessories include cargo organizers, floor mats, interior decorations, and seat covers. We'll help you make future road trips with your family or friends as convenient, comfortable, and special as possible.
How Else Can You Enjoy a Lincoln Navigator?
While we think that many people can benefit from designing a Lincoln Navigator that's precisely in tune with their tastes, custom-ordering a vehicle is not the only way that you can get behind the wheel of one of these luxurious SUVs. For example, you could reach out to our team about leases, which can allow you to experience all the benefits of a new Lincoln Navigator interior for a span of two or three years while not committing you to the vehicle in the long term.
We also offer a selection of alternative Lincoln Navigators that may include many of the modern luxuries and technology found in the latest new Lincoln Navigator SUVs. Start exploring the possibilities with us today.
Frequently Asked Questions About the Lincoln Navigator Interior
How do you turn off interior lights in a Lincoln Navigator?
The interior lights in your Lincoln Navigator should turn on automatically under certain circumstances. These include: if you have a door open, unlock the car remotely, or turn on the lights by pressing the light button on the ceiling between the driver's and front passenger's seats. Closing your doors or pressing this button again should turn the lights off. Individual lights also have buttons that turn them on or off.
How many seats does a Lincoln Navigator have?
The Lincoln Navigator is a three-row SUV. It can seat up to seven people if you choose the configuration with second-row captain's chairs. Alternatively, you can choose to have a bench seat in the second row, which ups the number of people it can hold to eight. The seats in this SUV are also very comfortable; some have leather upholstery and heating and massage features.
Is Lincoln Navigator a luxury car?
Yes, a Lincoln Navigator is a luxury car in every sense of the word. Not only does it offer high performance, ample room, and great creature comforts, but it also provides you the luxury of peace of mind. It is loaded up with safety and driver-assistance features that, while they should not be fully relied on, can help you protect your family on the road.
Resources Related To Lincoln Navigator